Location
901 W. Hillcrest Blvd
Inglewood, CA 90301
Store Hours
Monday – Saturday: 9am to 5:30pm
Los Angeles
At Classic Los Angeles, every event gets the red carpet treatment. Whether you're hosting an Academy Award gala for thousands or an intimate dinner for eight, we make sure that every rental detail - from tent top to table top - is given top billing. While our numerous awards – including a number one ranking by the Zagat Survey - make us the critic's choice, at Classic, we recognize our most important audience is you.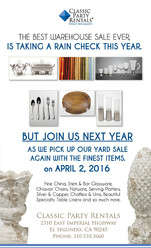 Fall/Winter Style Guide
As the leaves turn and snow begins to fall, flip through our 2015 Fall/Winter Style Guide for some seasonal inspiration for your next event.
VIEW STYLE GUIDE